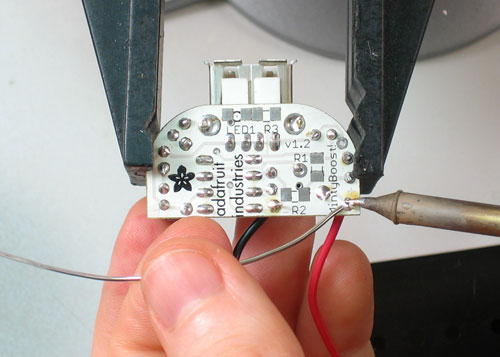 I've updated the shop with the latest revision of the Mintyboost kit. The newest kits have two possible locations for R5 so that the latest iPods and the Zune, etc. will work just fine without any hacks. New instructions are up, too.

I'm experimenting with nicer silkscreens, as you can see these kits now come with white mask and black silk. I also finally figured out how to import custom graphics into EagleCAD (the importbmp.ulp script) so I've put the adafruit logo on!
---
---
Maker Business — "The Future of Vegas Revenue Is an Illusion"
Wearables — Tin efficiently
Electronics — Diamonds may be forever… but components? Not so much.
Biohacking — Kardia from AliveCor – Medical Grade EKG for Your Phone
Get the only spam-free daily newsletter about wearables, running a "maker business", electronic tips and more! Subscribe at
AdafruitDaily.com
!
---
---
1 Comment
Ooh! I like the new silkscreen! I'll probably order a few more kits to make for friends and family.
Sorry, the comment form is closed at this time.