Today is a crazy day, there's tons of new stuff the the Adafruit shop.
First off, I have more Arduino boards in stock. Hopefully they will last more than a week.
Second, the protoshield PCBs are in! Hooray! This is a really nice protoshield for NG/Diecimila Arduinos
[flickr 1341944959
]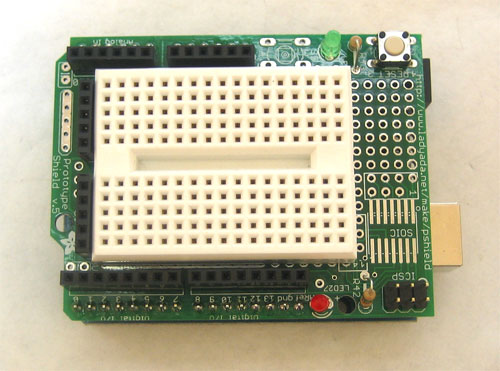 Nice! Full kits and PCBs are available.
Third, I have an Arduino Starter Pack which is a bundle of stuff that will get you going with Arduino hacking with ease!
[flickr 1418376393
]
There's an Arduino, USB cable, proto shield kit, tiny breadboard (goes on top of protoshield), 9V wall adapter, 9V battery holder, and a bag of parts that will get you started with my Arduino Tutorial lessons 0-6
Fourth, we have all those fun Arduino accessories in the shop: USB cables, 9V battery holders, 9V regulated wall adapters, small and tiny breadboards, as well as extra Arduino microcontrollers with my "no-wait" hack that speeds up development
Yow!