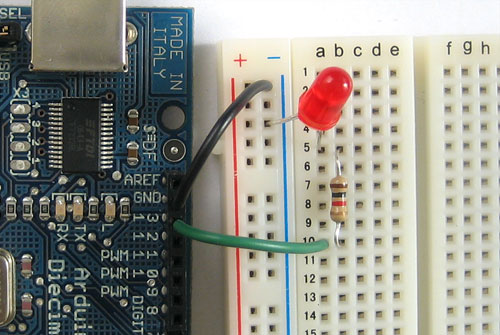 One of the nice things about the Arduino boards & software is they let people get started hacking electronics
fast
. However, I was looking for a good step-by-step tutorial that helped people with almost no experience through the first few steps of microcontroller programming and basic electronics design. At the same time, I'd been flipping through Parallax's excellent "What is a Microcontroller" workbook and decided to start writing something similar.
So check out my Arduino Tutorial page and give me feedback! Right now I've got 3 lessons up, and will try to get a another 3 out in the next week and a half.
At the end of lesson three, you build a mood lamp!
---
---
Get the only spam-free daily newsletter about wearables, running a "maker business", electronic tips and more! Subscribe at
AdafruitDaily.com
!
---
---
2 Comments
The topics list looks suspiciously like todbot's Arduino classes:
http://todbot.com/blog/spookyarduino/

Hello world is of course included in every tutorial, but he build a mood lamp too.

um, yeah, you may want to read the webpage http://www.ladyada.net/learn/arduino, especially the part at the bottom "Credits and other links" 😉
Sorry, the comment form is closed at this time.