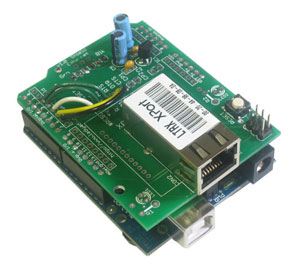 Want your Arduino to check email? How about sending a twitter (which can then be easily forwarded to a phone via SMS)? Or grabbing data from a website? There are so many possibilites for projects that connect to the Internet to get data, now there's an easy way to do it with an Arduino.
This shield allows you to add and use an XPort or XPort direct(+) Ethernet module (they cost only US$30-$50) using any 4 pins. All of the TCP/IP stack awfulness is done for you in the module so its super easy to just connect to any server.
Specifications
Read all the info on the website,
check out some of the example code, and buy the kit from the shop.
---
---
Get the only spam-free daily newsletter about wearables, running a "maker business", electronic tips and more! Subscribe at
AdafruitDaily.com
!
---
---
6 Comments
Since you're going with Lantronix, will the shield also support the MatchPort b/g for WiFi projects? I'm not sure of the MatchPort is pin compatible with the XPort, but they should be pretty close.

Hmm, you'd also want some mechanical support for attaching the antenna; that could be a tight squeeze with the "shield" form factor.

the matchport is nowhere near the same pinout as the xport direct!

as it says on the project page, "This shield is not designed for WiPort or Matchport modules (wireless 802.11) or other ethernet modules such as Wiznet, Rabbit, etc."

Excellent. Thanks for this!

what is it realy suposta do and how reliabal is it. plus where do i get It!!!!

Any reason to go with the Lantronix and not another module, like a Digi?

the xport direct is the least expensive module out there. are the digi modules better in some way? they dont seem to be as prevalent…
Sorry, the comment form is closed at this time.