Using his trusty USBtinyISP kit, Jamie turned the EMSL Peggy kit from a hoax device into a tasty ghostie. Yum!
Read more about it at NoiseLandArcade…
Don't forget, if you want to put it on your bike there's always the SpokePOV option…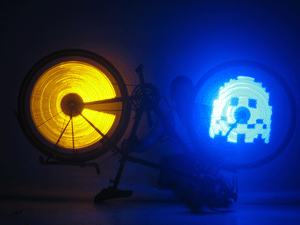 ---
---
Maker Business — "China's factories in Shenzhen can copy products at breakneck speed—and it's time for the rest of the world to get over it"
Wearables — Glow, gemstone, glow
Electronics — Clarify your supply
Biohacking — The State of Mobile Health Apps
Get the only spam-free daily newsletter about wearables, running a "maker business", electronic tips and more! Subscribe at
AdafruitDaily.com
!
---
---
No Comments
No comments yet.
Sorry, the comment form is closed at this time.