Here is a slightly advanced hack. If you have a project that needs lots of ram for buffering data or other nonsense, you can get 10% more by cutting down the ram used in the Serial library. Unless you're doing a project with a lot of Serial data coming in, you wont need 128 characters…I find 16 or 32 is plenty!
Open up hardware/cores/arduino directory, and edit the file named wiring_serial.c
Near the top is a #define RX_BUFFER_SIZE 128, which means 128 bytes are used for the buffer. You can change this to 32 (or even 16!). If you have almost no serial input, make it as low as you'd like as long as its > 0.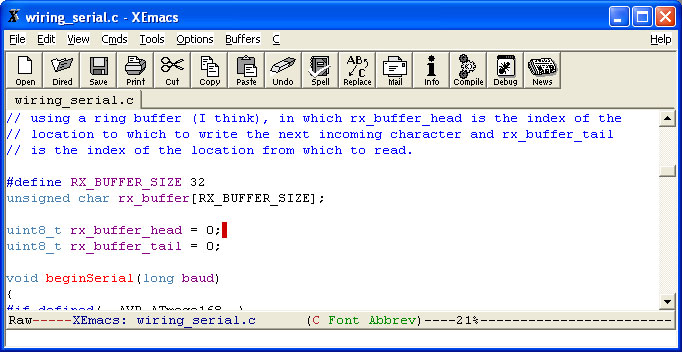 You can get another 2 bytes by changing the head and tail index values from int to uint8_t type. Just recompile your sketch and it will automatically do your thing.
---
---
Get the only spam-free daily newsletter about wearables, running a "maker business", electronic tips and more! Subscribe at
AdafruitDaily.com
!
---
---
4 Comments
The file named wiring_serial.c referred to above does not exist in the arduino16 library.

What Bill said.
In Arduino v.17, the file wiring_serial.c does not exist, as in v.16 like Bill mentioned.
I think I have found the solution to this problem though.
go to:

hardware/cores/arduino/HardwareSerial.cpp

Right click the file and select "edit". The file opened in notepad for me. Once open in notepad, hit Ctrl + F and type (or copy and paste) "#define RX_BUFFER_SIZE 128" into the search box, click next or find.
Change the 128 to a 32 or 16.

Bill,

In the arduino17 library, the file is "HardwareSerial.cpp". It's probably the same in arduino16.

Regards,
Eric

You can save another couple of bytes of RAM by changing nearly all the "int" data types to "uint8_t" in HarwareSerial.cpp.

In particular, look for "head" and "tail" inside "struct ringbuffer" (in Arduino 17, the head/tail variables have changed from those in the article), and "i" in "inline void store_char()".

I think you can also change the return type of HardwareSerial::read() to a uint8_t instead of an int too. That won't save you any constantly used RAM, but it might save you a byte of stack.

If you're using your serial port at 9600, then setting the buffer to 16 is already pretty high. It'll take 1.6ms to fill, which is quite a few cycles. If all you're using the serial port for is human input, then you're probably able to empty the buffer far quicker than a person can type.
Sorry, the comment form is closed at this time.