Here is a timely project for an electronic halloween pumpkin. With a bit of hacking a $1 plastic pumpkin is upgraded: a sensor embedded in the nose detects when people get close and will randomly play scary sounds and animate the LEDs on its face. The sounds are stored on an SD card so its easy to change and customize what the pumpkin says/screams, while the code is written for an Arduino so its easy to modify the behavior. I'm going to have this pumpkin outside my door to freak out the little kids who go to daycare nearby. Boo!


This is a modified version of the project that is a little 'accelerated' for easy videoing: normally it only makes sound every couple of minutes
You will need:
This isn't a particularly tough project, but you'll need to know basic Arduino/Microcontroller programming and soldering
Check out the detailed step-by-step over on the project page…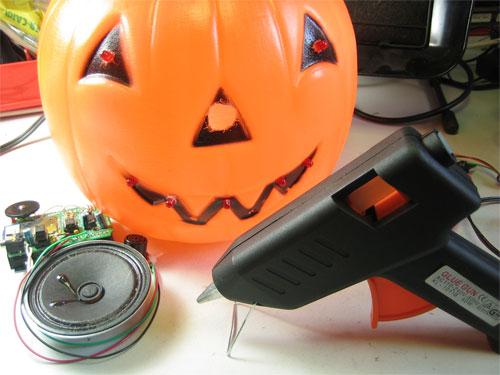 ---
---
Maker Business — Alibaba to invest $15b in tech, set up research labs around the world
Wearables — Hand beading mimicry
Electronics — Trigger happy oscilloscope?
Biohacking — Biohacking: Visioneer – AI Glasses to Assist the Visually Impaired
Get the only spam-free daily newsletter about wearables, running a "maker business", electronic tips and more! Subscribe at
AdafruitDaily.com
!
---
---
2 Comments
Cool! I might try this out, my arduino (little cousin snapped my old one, Stupid relatives.) is supposed to be arriving soon, and if I have enough time, I'll probably order a wave shield. I doubt I'll get it done before halloween though.

Excellent..! I've been looking for a cool Halloween project. I was thinking I'd do this, but now this project looks even cooler… Don't have a distance sensor though, and not sure I have the time to ebay one, so we'll have to see about that…
Sorry, the comment form is closed at this time.