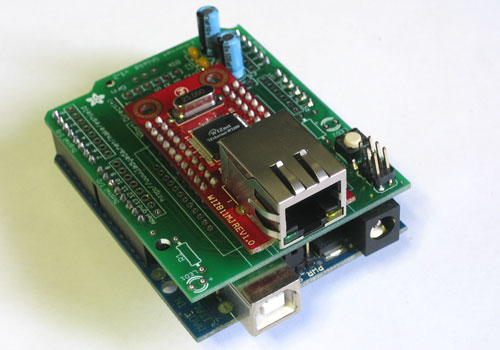 In addition to the Duemilanove's, I've put a new version of the ethernet shield up in the shop as well. This version allows the use of XPort or WIZnet Ethernet modules. The WIZnet module is compatible with the official Arduino Ethernet library, which is easy to use and very powerful. However it does not have DHCP built-in which can make setup a bit frustrating if your network isn't friendly. Still, they are a bargain compared to the XPorts, available for only $20.
Read more about the new version at the updated website
---
---
Get the only spam-free daily newsletter about wearables, running a "maker business", electronic tips and more! Subscribe at
AdafruitDaily.com
!
---
---
2 Comments
Nice addition to the board.

The shop has a v1.0 bare board that says "XPort/WIZnet". Is this an error?

typo, fixed now
Sorry, the comment form is closed at this time.