(Last week, Phil T. & I entered our prototype networked power meter "Tweet-a-watt" into the Greener Gadget competition here in New York. After much demand for how to do such a thing, I've decided to post up this work in progress)
[flickr 3218483639
]
This project documents my adventures in learning how to wire up my home for wireless power monitoring. I live in a rented apartment so I don't have hacking-access to a meter or breaker panel. Since I'm still very interested in measuring my power usage on a long term basis, I will build wireless outlet reporters. Building your own power monitor isn't too tough and can save money but I'm not a fan of sticking my fingers into 120V power. Instead, I'll build on the existing Kill-a-watt power monitor, which works great and is available at my local hardware store.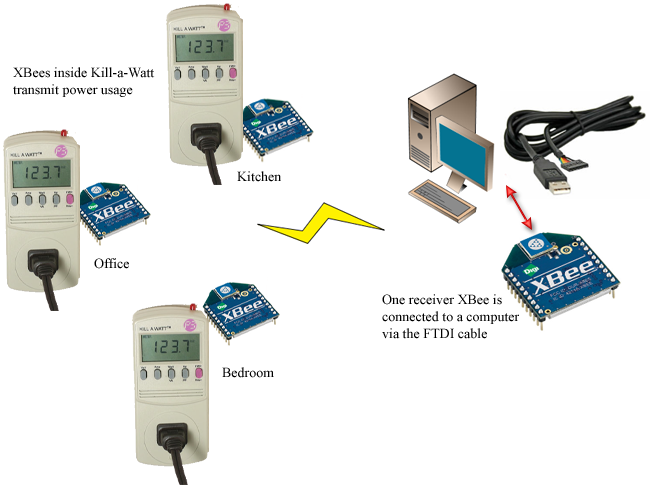 My plan is to have each room connected to a 6-outlet power strip which powers all the devices in that room (each kill-a-watt can measure up to 15A, or about 1800W, which is plenty!). That way I can track room-by-room usage, for example "kitchen", "bedroom", "workbench", and "office".
This project will show how to:
snag data from a Kill-a-Watt power meter
use an XBee to read analog sensor data remotely
put XBees into low power sleep mode
have multiple sensors transmit to one receiver
parse XBee sensor data using python on a home computer and/or an Arduino-type thing
utilize Google App Engine 'cloud computing' to store that data and display it for later analysis
So far I've uploaded the first section which goes through the hardware steps of wireless-izing a Kill-a-Watt with an XBee modem!