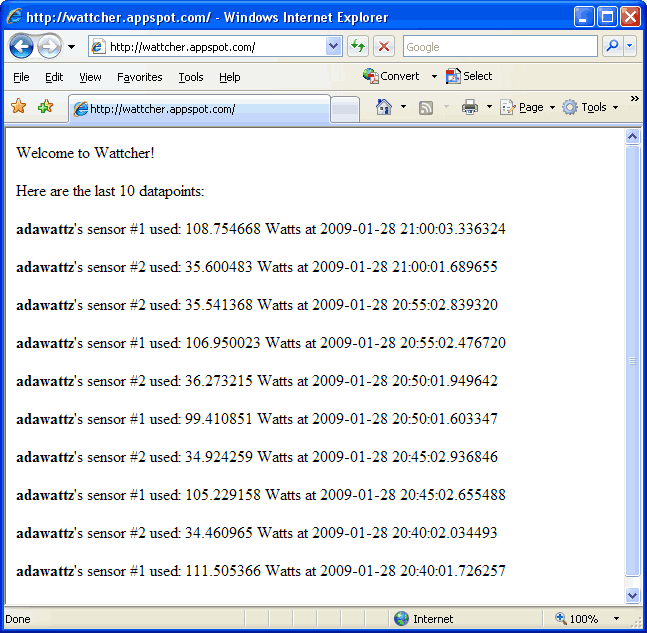 In this latest installment, watch as the heroine takes Watt-hour averages, learns Google App Engine and creates a webapp custom-designed to store her sensor data. Wow! See data as it trickles in at http://wattcher.appspot.com
Next up: Graphs, diagrams and other pretty pictures!
---
---
Maker Business — Alibaba to invest $15b in tech, set up research labs around the world
Wearables — Hand beading mimicry
Electronics — Trigger happy oscilloscope?
Biohacking — Biohacking: Visioneer – AI Glasses to Assist the Visually Impaired
Get the only spam-free daily newsletter about wearables, running a "maker business", electronic tips and more! Subscribe at
AdafruitDaily.com
!
---
---
3 Comments
Hey Ada, how do you monitor usage by lights and appliances?

I loved your concept, but I too live in a rented apartment and not very excited about hacking the electric system. But lights and appliances are a must, otherwise it won't be even barely accurate in my case.

Neat, but really, your REST webservice should respond to an HTTP POST request instead of a GET request in PowerUpdate. 😉

Only change you'd have to make to your python script would be to pass a data parameter to urllib2.Request(url, data) See: http://www.voidspace.org.uk/python/articles/urllib2.shtml#data

GET is easier for my brain to cope with
Sorry, the comment form is closed at this time.