UPDATED!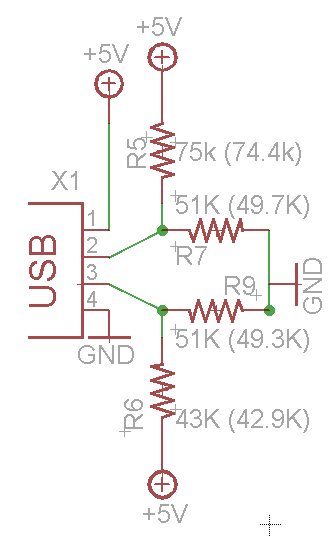 If you're using the iPhone 3Gs with a Mintyboost we have added a note to the FAQ that has the precise resistor setup you would want to use if you're going to mod your kit.
---
---
Get the only spam-free daily newsletter about wearables, running a "maker business", electronic tips and more! Subscribe at
AdafruitDaily.com
!
---
---
3 Comments
I'm looking at the official Apple hardware spec (NDA), and these resistor values and voltages are not correct. Close, though.

Can't you just crack open an official, certified Made for iPod charger and read the correct values off the SMT resistors? Then you'd have a single charger that works with EVERY model of iPod/iPhone. Even if you had just measured the voltages without taking it apart, you'd see that these values are wrong.

http://store.apple.com/us/product/MB352LL/B

I'm really surprised that no one has done this yet, while everyone speculates about what the resistors *might* be…

This is a job fooor… Reverse Engineering!

:/ huh! We did open up a 'made for iPod/iPhone charger' and read off the resistors. but we have another one we cannibalized and we'll look at that one too!

OK I destroyed an Apple USB charger and desoldered the 0402's to get a precise measurement. Updated post with photos above.
I'll bet $ on these values 🙂
Thanks for the feedback Mr. :/ Hopefully this is settled now!
Sorry, the comment form is closed at this time.