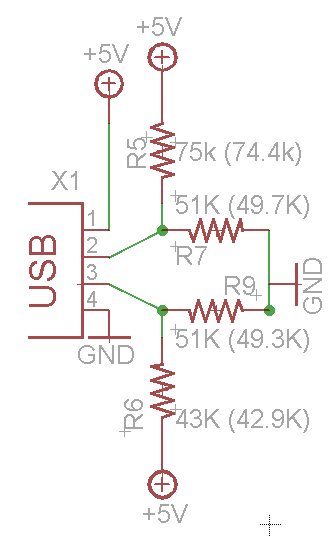 We updated MintyBoost FAQ with new resistor values – We destroyed an Apple USB charger and desoldered the 0402's to get a precise measurement – also x-referenced. So this should be the final chapter in the story!
---
---
Get the only spam-free daily newsletter about wearables, running a "maker business", electronic tips and more! Subscribe at
AdafruitDaily.com
!
---
---
11 Comments
So are the resistors used in the voltage divider like 1% precision? Have you found out how far you can push the voltage up or down on the data lines and the phone will still accept the charger?

Now there's some literal hardware hacking! 🙂

@echoskope – please post up in the forums too for this one!

I don't get why Microsoft has such a bad reputation, but everyone loves Apple. Apple has made an artform and a science out of screwing people over, but it seems the more they stick it to consumers (having any choice about how they use their hardware) the louder people cheer? I've seen a lot of interesting stuff coming out of Microsoft Research, for example … what's Apple 'given' back to the world lately? Really kind of ticks you off to see companies going (way) out of their way just to nickle and dime you on something as trivial as a charger.

Do you have more pics of the internals of that charger? If so, I'd love to see them. I've always wondered exactly what was inside mine, but @ $20 I didn't want to trash it.

Thanks.

Following the measured ratings, and the +/- 5% resistor tolerances, here are the voltage values.

40.85 43 45.15 / 48.45 = 2.713 2.649 2.588
40.85 43 45.15 / 51 = 2.776 2.713 2.652
40.85 43 45.15 / 53.55 = 2.836 2.773 2.713
2.713V +/- 4.5%

and
71.25 75 78.75 / 48.45 = 2.024 1.962 1.904
71.25 75 78.75 / 51 = 2.086 2.024 1.965
71.25 75 78.75 / 53.55 = 2.145 2.083 2.024
2.024V +/- 5.9%

This assumes apple used 5% tolerance resistors.

@Kevin Townsend – I'm with you on that. In fact, all of the technology companies would love to have the lock in that Apple has with their hardware/software. Look at IBM and their mainframes, they've had a monopoly on those for more than 40 years!!! Don't even get me started about Sony! Microsoft has done more for bringing computing to the masses than Apple has by a long shot. If it weren't for MS I suspect that the hardware that makes linux so cheap and usable would have never been there.

That being said, I love my iPhone 3gs, and my MintyBoost kit works just fine with it. I assembled 5 of them for Christmas gifts and people loved the fact that I made them something so useful.

Could you utilize a potentiometer in some fashion and "tune" in the resistance necessary to figure it out?

I wonder if these new values have any effect on charge time.

And as for the exact values, the resistors don't have codes on them?

http://www.talkingelectronics.com/ChipDataEbook-1d/html/SM-Resistors.html

I'm also curious about the SMPS circuit inside those tiny chargers. Is it still around to trace out a schematic?

no, 0402 resistors do not have codes on them
Sorry, the comment form is closed at this time.