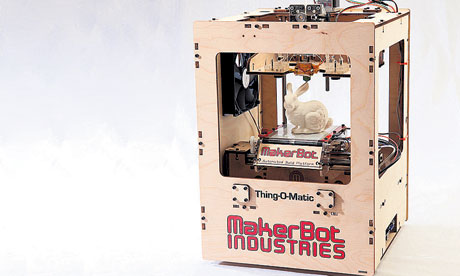 Neat article about MakerBot in The Guardian:
Finding the ultimate Christmas present for the discerning geek has never been easy, but a small team of professional tinkerers based in New York has come up with the ultimate geek must-have – a printer that "prints" in 3D.

Rather than printing with ink on a page, 3D printers build up objects using layers of plastic. They have been available since 2003, but Brooklyn- based firm MakerBot, which started early in 2009, has developed a small printer that comes in kit form. Having to assemble the "robot" printer adds to the charm for true tinkerers, but this DIY approach also makes it far cheaper than it might be; until now, commercial 3D printers haven't been available for much less than £25,000.
Here's the kicker:
MakerBot has sold just 3,000 machines so far but is struggling to keep up with demand. A UK supplier, Robosavvy, is now selling the Thing-O-Matic for £847. As with the realised ambition of Bill Gates, who famously said he wanted to put a computer in every home in the world, all of us will eventually own a 3D printer, says Pettis. The key is to make these machines affordable.

"We're not engineers – we're tinkerers," he says, explaining that MakerBot's background in tinkering means a preoccupation with finding parts as cheaply as possibly, so much of the DIY kit is off the shelf. "If we were engineers, this thing would cost 100 times as much. But our goal is to democratise manufacturing so anyone can have a machine that makes anything they need. We want to render consumerism useless – and that doesn't work if the machine isn't cheap."
Love it.