Mnova asks:
I would like to know if it is safe to use Li-Po batteries in series in order to provide a higher operating voltage. I was reading the Adafruit Learning System write up on Li-Ion and Li-Poly batteries and I got a bit confused.
The ALS says the following about charging Li-Pos in series:

""This is also discouraged because the battery wont be able to be charged in a balanced manner. You should purchase a lithium ion pack that is preassembled.""

I would like to know, if it is OK to use the batteries in series and then charge them individually.
Great question!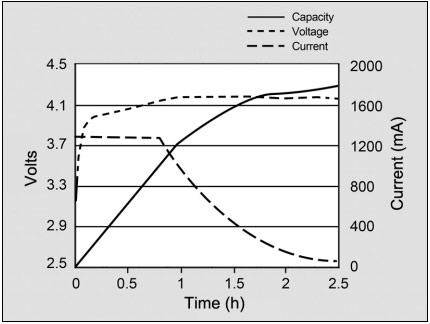 Batteries are purchased in two configurations, as individual cells (i.e. an AAA, AA, C, D, 18650, etc) or as a pack. Individual batteries do not need to be balance charged as the charger will regulate the voltage and current input to the battery and turn off when complete. The Adafruit Learning System's statement is based on the fact that some battery chemistries do not "self-balance" when charged in series. In contrast, chemistries like NiMh and NiCd can be charged without balancing.
If you purchase a Lithium based battery pack containing 2 or more cells, it should have secondary wires that are connected to each respective cells positive and negative terminal. Each wire is shared with its neighbor, so a 2S pack would have 3 wires, a 3S pack would have 4 and so on. These taps allow for "fine tuning" the current and voltage entering the pack during charging and maintains a constant voltage over each cell. Make sure you have a battery charged that is designed to charge multiple lithium cells and that it contains this balancing capability. Below is an example of what can happen if a LiPo battery is improperly charged:
In order to prevent a disaster like this, periodically examine the physical state of your batteries. They should not feel squishy or appear ballooned and make sure you store them in a fire-proof container. I happen to use a old coffee can for mine. If you find out they are damaged, bring them to your local hobby store for recycling.
There is a great website that provides quite a bit of information regarding the proper handling of most battery chemistries.
I hope this has helped answer your question, have fun with your LiPos and be safe!
Don't forget, everyone is invited to ask a question!

Click here!
"Ask an Educator" questions are answered by Adam Kemp, a high school teacher who has been teaching courses in Energy Systems, Systems Engineering, Robotics and Prototyping since 2005.