Via Nature: The online journal eLife has created its first "computationally reproducible" article, in which figures are integrated with the software, data and computational environment required to produce them.
Readers can change the underlying code and produce modified figures in order to better understand, validate or build on the work. For example, they could rerun the code to see what a figure looks like without outliers, or use a different type of plot to reveal trends more effectively. Researchers say that the reproducible article, which eLife first published in its conventional format last year, is a significant step towards a future in which papers are much more than just static pages.
"What eLife is doing is making this commitment to upgrading the research article so that it is not just the written word, but it is this multifaceted communication medium that includes the data and the code as an integral part," says Lorena Barba, a mechanical and aerospace engineer and reproducibility specialist at the George Washington University in Washington DC.
The technologies could in future make it easier for researchers to reuse each other's code. Users cannot upload their own data and add them to figures, but Maciocci says that the plan is for them to eventually download such articles and run them on their own computers in order to, for instance, analyse their own findings using the authors' code.
Via eLife – eLife, in collaboration with Substance, Stencila and Tim Errington, Director of Research ar the Center for Open Science, US, published its first reproducible article, based on one of Errington's papers in the Reproducibility Project: Cancer Biology. This reproducible version of the article showcases some of what's possible with the new RDS tools, and we invite researchers to explore the newly available opportunities to tell their story.
Getting started with eLife's reproducible article
Our reproducible article demo showcases just some of the functionality that RDS tools will permit, and it's intended as an easy starting point for exploring the technology. Here's what you can do:
Look out for the round blue 'R script'-labelled buttons below Figure 1. Click it to reveal the code that generated that figure.
Edit that code, and press shift–enter to re-run it.
Observe the results in the figure in real time.
Future iterations will enable fully downloadable datasets and table data, more interactive figure types, and the ability to download a pre-packaged DAR source file to make it much easier to fully replicate the whole reproducible manuscript in your local environment.
You can see more of the RDS' potential in action by taking a look at this demo of Stencila, one of the platforms behind the project.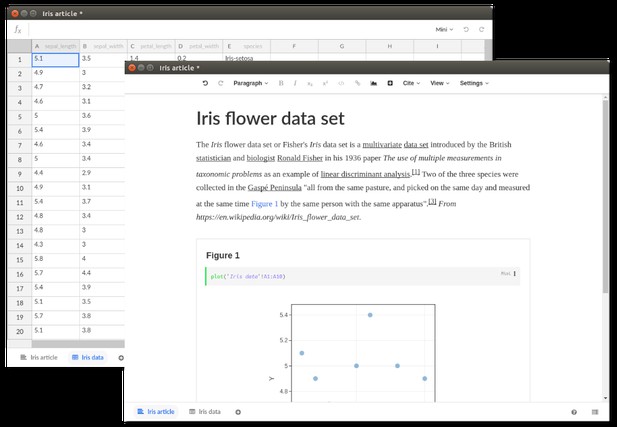 The simplest way to author a reproducible article is with Stencila Desktop, a free, user-friendly manuscript editor. This combines the traditional authoring workflows of Word and Excel with the ability to embed R and Python code blocks that can analyse table data and generate live interactive plots using the powerful Plotly.js library – features that will be very familiar to researchers who use Jupyter Notebooks. For non-coders, Stencila also provides a powerful formula language, Mini, that will be very familiar to those who prefer Excel for their data analysis.