Via the Centre for Computing History – The ZX81 was launched on March 5th 1981 by Clive Sinclair.
It is commonly considered to be the machine that brought computing to the general public in the United Kingdom as it was affordable at £69.95 and it was the first computer to be available to buy in high street shops like W.H. Smiths.
The computer was physically quite small measuring 167mm deep by 40mm high. The slim plastic case included a membrane keyboard and a single circuit board. The entire machine weighs just 350 grams.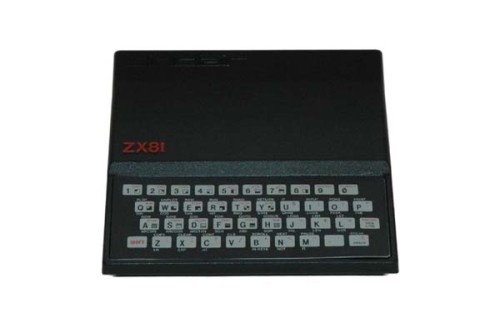 With only 1Kb of RAM, and 8Kb of ROM the ZX81 was not capable of colour graphics. However, it didn't stop the sales of this machine which sold over 1.5 million units.
Technical Info
The ZX81 came with 1 kB of on-board memory that could be expanded externally to 16 kB. The memory is provided by either a single 4118 (1024 Bit × 8) or two 2114 (1024 Bit × 4) RAM chips. There are only three other chips on board: a 3.5 MHz Z80A 8-bit microprocessor from Nippon Electric (now NEC), an uncommitted logic array (ULA) chip from Ferranti and a 8 kB ROM providing a simple BASIC interpreter. The memory can be expanded externally to a maximum 64 kB, although this replaces rather than supplements the on-board memory.