Via Cosmos Magazine: Research has unveiled a new source of particle asymmetry. Physicist Marco Gersabeck from the UK's University of Manchester explains.
Some 13.8 billion years ago, the Big Bang produced equal amounts of the matter you are made of and something called antimatter. It is believed that every particle has an antimatter companion that is virtually identical to itself, but with the opposite charge. When a particle and its antiparticle meet, they annihilate each other – disappearing in a burst of light.

Why the universe we see today is made entirely out of matter is one of the greatest mysteries of modern physics. Had there ever been an equal amount of antimatter, everything in the universe would have been annihilated. Our research has unveiled a new source of this asymmetry between matter and antimatter.
The fundamental building blocks of matter that make up atoms are elementary particles called quarks and leptons. There are six kinds of quarks: up, down, strange, charm, bottom and top. Similarly, there are six leptons: the electron, muon, tau and the three neutrinos. There are also antimatter copies of these twelve particles that differ only in their charge.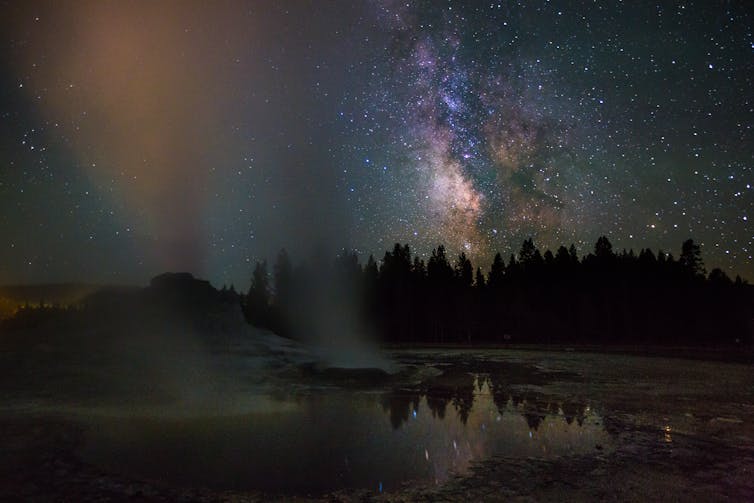 Antimatter particles should in principle be perfect mirror images of their normal companions. But experiments show this isn't always the case. Take for instance particles known as mesons, which are made of one quark and one anti-quark. Neutral mesons have a fascinating feature: they can spontaneously turn into their anti-meson and vice versa. In this process, the quark turns into an anti-quark or the anti-quark turns into a quark. But experiments have shown that this can happen more in one direction than the opposite one – creating more matter than antimatter over time.
Both the strange and bottom quark carry a negative electric charge. The only positively charged quark that in theory should be able to form particles that can exhibit matter-antimatter asymmetry is charm. Theory suggests that if it does, then the effect should be tiny and difficult to detect.

But the LHCb experiment has now managed to observe such an asymmetry in particles called D-meson – which are comprised of charm quarks – for the first time. This is made possible by the unprecedented amount of charm particles produced directly in the LHC collisions, which I pioneered a decade ago. The result indicates that the chance of this being a statistical fluctuation is about 50 in a billion.

If this asymmetry is not coming from the same mechanism causing the strange and bottom quark asymmetries, this leaves room for new sources of matter-antimatter asymmetry that can add to the total such asymmetry in the early universe. And that's important as the few known cases of asymmetry can't explain why the universe contains so much matter. The charm discovery alone will not be sufficient to fill this gap, but it is an essential puzzle piece in the understanding of the interactions of fundamental particles.
Physics or space fan? Let us know in the comments below.