Frank Cifaldi tweets about doing a super deep dive into uber-obscure video game research leading to the TV Guide Quizmaster plug & play console.
In the early 2000s, a new toy category gained popularity in the United States: the "plug & play" video game console. You probably remember seeing a lot of these! The Jakks Pacific stuff was probably the most prolific.

These are really cheap, self-contained video game systems, typically battery-powered. All you had to do was put in batteries, plug the cables into your TV and, boom, you're playing Ms. Pac-Man. This is the current model of something that has been sold since about 2003!
So in researching further, Frank's search came up with a strange offering: "Yours for just $24.95, it's the TV Guide Quiz Master Plug N Play!" A complete mystery product which, of course, is the only broken image on the Wayback scrape.
Read this interesting Tweet stream as Frank digs deeper into finding out about this obscure product.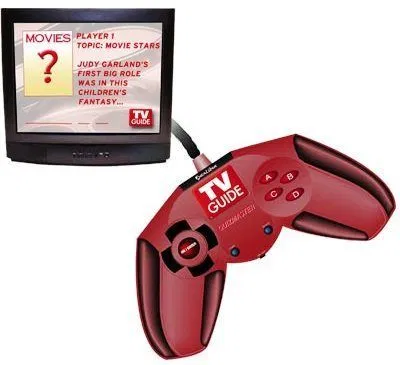 Post in the comments below about your obscure single unit TV game consoles.