Designing a custom PCB and use of an ICE40 FPGA to replace a dev board setup in driving a 64×64 RGB LED matrix.
Just another Electronics Blog writes:
I came up with the following requirements for this PCB:

I used an FT232H in the test setup above to get high enough transfer rates required for making gifs look nice. Each frame is around 12KB and to transfer 30 per second the transfer rate has to be around 400KB/second, something UART cannot easily do. The FT232H supports up to 60Mbit/sec using SPI, more than plenty.

The ICE40UP5K has plenty of on board SRAM, 1Mbit, is affordable and works great with the FOSS tools, perfect.

I noticed some glitches in the test setup. It turns out these LED matrices need 5V IO. Hence some level shifting is needed.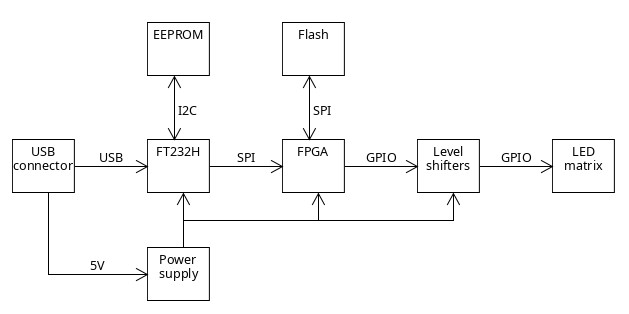 See the entire process in the post here.