In early 2000, the Japanese sewing company Jaguar released a machine with one very curious feature. Rather than having designs built-into the sewing machine, the Jaguar JN-100 (aka "nuyell") connected with a Game Boy via Link Cable to receive stitching instructions.
The software, called Raku x Raku Mishin, came on a regular black Game Boy cartridge and handled transferring data to the JN-100. Users could then program the machine to stitch various patterns, buttonholes, kana, lettering, and even short custom paths.
An American company called Singer found the JN-100 a tempting business opportunity; they later agreed release a near exact copy in the United States under their brand, the Singer IZEK 1500.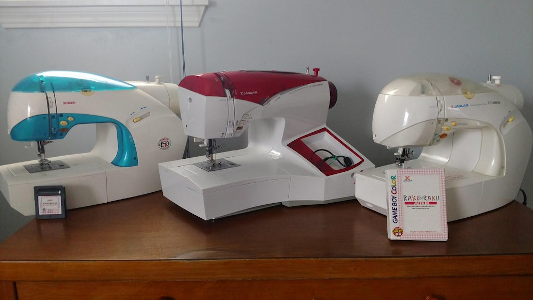 In 2001, Jaguar made a second model called the JN-2000 (aka "nuotto") which boasted improved stitching speed and a dedicated embroidery arm called the EM-2000. While the JN-2000 was backwards compatible with the JN-100's Game Boy cartridge, 3 new pieces of software were made exclusively for the newer JN-2000's embroidery functions.
Although Jaguar saw notable success with their products, Singer found less reception to the IZEK-1500 in the US. There were plans to make a newer version that handled embroidery as well, but Singer never fully realized those plans. As such, the JN-2000's ability to embroider clothes with Mario-themed artwork remained exclusive to Japan.
See the Shonumi GitHub.io post here for more information.