Christa at Panic has published a comprehensive story of the Playdate handheld gaming device.
Ten years ago, the CEO and Head of Design at Teenage Engineering, Jesper Kouthoofd, got an email:

Hi Jesper,

We're a small software company that makes Mac/iOS apps. For our 15th anniversary, I've been tinkering with an idea: find our 150 best customers, manufacture something incredibly special, and send it to them.

Here's how an offhand idea to mark the fifteenth anniversary of a software company launched a decade-long saga of twists, turns, and mini-boss battles that led to a gaming console as surprising and unique as its creators.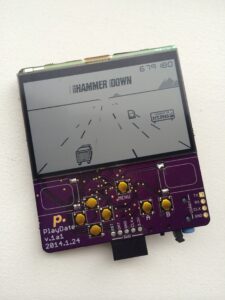 The designs were varied and the demand mounted as the design for Playdate came together. A beautiful screen and a hand crank!
On July 29th, 2021, pre-orders went live! You can order yours right now.
Read the entire story on Panic's blog here.
Other Adafruit stories on Playdate: